55th reunion
August 2017
Hi, friends! Great to see you at our 55th! 52 classmates attended (75 in all). Although it may seem a bit premature to be thinking already about our 60th in 2022, would you please take a moment and let us know your thoughts while everything's still fresh in our minds?
For example, for the 55th someone suggested one night, not two. We did that. Someone suggested possibly getting a flavor of Wisconsin's Friday Night Fish. We did that. Someone suggested holding it on a busy summer weekend in Madison. We did that (Art Fair on the Square). Tours of West and Epic – Colleen and I came up with those ideas and over 40 folks participated. At the Reunion itself, Steve Gall suggested meeting at the Memorial Union for anyone who wanted to Taste the Terrace – some did!
So, that said, we listen to you and want to know how/what you'd like for our 60th. It takes more than a year to plan, so please don't wait! Email Jacquie (gbobuckymom@gmail.com) or Colleen (cmccabe@wisc.edu) and we'll put it in a folder to look at in 2021!! For example: time of year, one vs two nights, weekday or weekend, your ideas, please!
So far: from 55th – Classmate comments/suggestions for our 2022 60th Reunion – yes! Not too soon to weigh in …
"Silent Auction like we did for 50th Reunion"
"Reunion like we had tonight! People more comfortable not to have to dress up"
"Stay awake, stay alive."
"Venue that might have 2 rooms – one side to talk/visit; the other side with music/dancing."
"Tour of Capitol"
"Had a blast at 55th! I did miss having a Saturday night event."
"Location (Inntowner) was perfect. It was easy to get to and the food was really, really good."
"Fine with no music/dancing – we might break something!"
"It was wonderful to see everyone and to see new faces after many years. Hope future reunions are in the plans."
"I also think organizing one evening event was a good idea leaving people to pair upon their own for the rest of the weekend. Don't need a formal dinner dance; most of us are getting beyond the stage where we can do the Twist!"
"Lovely, lovely time. Somehow it gets sweeter and sweeter to see each other at each get together. Looking forward to the next one!"
"We had a great time at the small reunion. "
"I had fun just seeing and greeting people I had not seen for a long time. Many remembered things we had done together."
"Everyone really enjoyed themselves and the food was wonderful! We also toured both West and Epic."
P.S. Four quick things:
If you hear or know of anything about our classmates, please do let Colleen know & she will post on website.
That said though, we will no longer make a concentrated effort to track down more Missing Classmates at this point. I always give West High our Reunion plans and contact names. If anyone wants to find us, they always can by contacting West High School, our website (www.madisonwesthigh62.org) or Facebook/Messenger.
Please try to remember to update class website or email me or Colleen if you move/ have a new email, etc. That's how we get information to you!
We have a few Directories that could be sent to you if you'd like one! Ten bucks would cover Directory, padded envelope and postage – check to Madison West High 62, then send to Jacquie Vilstrup, 3441 Timber Lane, Cross Plains WI 53528. It's another good one full of fun info!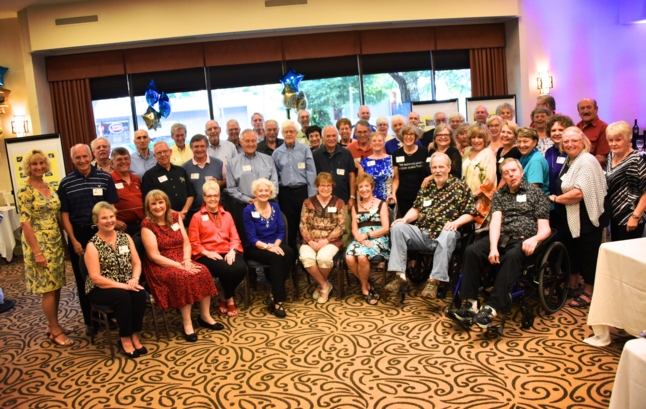 More photos at
https://photos.shutterfly.com/story_invite/7f69eb84-bbff-409b-a321-d7ee518a24a2/90154295378
See the video at https://www.youtube.com/watch?v=k_ciq0AbLqo&sns=em
West '62 – 55th Reunion – group photo: July 7, 2017 - Inntowner
Row 1: (seated) Bonnie Ajer Smith, Sandra Lenz Stark, Sandra Lachnit Andersen, Jacquie Harman Vilstrup, Melodie Leinberger Ohlinger, Maureen O'Mara Armstrong, Tom Hunter, Jim Mayland.
>
Row 2: Joan Albrecht, Dick Smith, Tim Hibbard, Tom Casey, Jim Haugsland, Brek Johnson, Tom Hurst, Don Bailey, Pam Reigle Mummery, Marilyn McKnight Erickson, Sharon Lewis Thousand, Judi Weissmiller McGee, Beverly Olsen Lemberger, Judy Symon Hanson, Madeline Wright, Ann MacNicoll.
>
Row 3: Jim Dunn, Hank Cuccia, Tim Van Galder, Don Pfahler, Ken Grafton, Paula Jean Hanson Baumgarten, Roberta Hutzel Kane, Roy Weatherwax, Karen Nielsen Riely, Lucy Stamphli Kalscheur, Colleen McCabe, Sue Blomgren Sawdo, Susan Anderson Ruedisili.
>
Row 4: Dale Johnson, Rod Shaughnessy, Steve Gall, Ulrich Lettau, Mary Odell, Peter Krug, John Skilton, Sharon Stark, Ted Tarkow, Tempy Burress McCombe, Bob Workinger, Mike Cox.
Joan Albrecht - Clearwater FL
Susan Anderson (& Lon) Ruedisili – Ferryville WI
Don (& Jane) Bailey – Middleton WI
Sue Blomgren (& Ken) Sawdo – Shelbyville KY
Tempy Burress McCombe – Georgetown KY
Tom (& Lucille) Casey – West Des Moines IA
Michael Cox (& Jackie Disch) – Lodi WI
Hank Cuccia – Madison WI
Bob Dobson (& Bev Larson) – Muscoda WI
Jim Dunn (& Ms Loba Srug) – Merrimac WI
Steve Gall – Baraboo WI
Ken Grafton – Green Valley AZ
Paula Jean Hanson (& Tom) Baumgarten – Minocqua WI
Jacquie Harman Vilstrup - Cross Plains WI
Jim Haugsland – Bayside WI
Thomas D. (& Joanne) Hunter – Milwaukee WI
Tom (& Betsy) Hurst – Gainesville FL
Roberta Hutzel Kane – Madison WI
Cheryl Iverson – Chicago IL
Brekke (Brek) Johnson – Naples FL
Dale Johnson – Longmont CO
Peter Krug – Madison WI
Sandy Lachnit Andersen (& Tim Hibbard) – Middleton WI
Melodie Leinberger (& David) Ohlinger – Mercer WI
Sandra Lenz (& Charlie) Stark – Madison WI
Ulrich (& Rebel) Lettau – Marble Hill MO
Sharon Lewis (& Tim) Thousand – Madison WI
Ann MacNicoll (& guest) – North Las Vegas NV
Jim (& Leslie) Mayland – Highwood IL
Colleen McCabe – Madison WI
Marilyn McKnight (& Steve) Erickson – Shorewood MN
Karen Nielsen Riely – Madison WI
Mary Odell – Madison WI
Beverly Olsen (& Bob) Lemberger – Middleton WI
Maureen O'Mara Armstrong – Madison WI
Don Pfahler (& Linda Dawson) – Madison WI
Pam Reigle Mummery – Ridge NY
Rod Shaughnessy – Madison WI
John (& Carmen) Skilton – Madison WI
Dick & Bonnie (Ajer) Smith – Windermere Fl & Madison WI
Tom Speranza – Madison WI
Lucy Stampfli (& Jip) Kalscheur – Madison WI
Sharon Stark (& Peter Livingston) – Spring Green WI
Judy Symon Hanson – Spring Green WI
Ted Tarkow – Columbia MO
Tim Van Galder – St. Charles MO
Roy Weatherwax – Madison WI
Judi Weissmiller McGee – Loudon TN
Bob (& Marilyn) Workinger – Saint Germain WI
Madeline Wright – Los Angeles CA
---
September 14, 2017
Dear West High Class of 1962 Reunion,
The Madison Metropolitan School District Board of Education formally accepted your generous gift at our most recent Board meeting. We are fortunate to live in a community that values the potential of public education. Gifts like yours are deeply appreciated. They help us move toward our vision of every student graduating from MMSD prepared for college, career, and community. Thank you.
Sincerely,
Jennifer Cheatham, Ed.D. James Howard
Superintendent of Schools President, Board of Education